As business owner, I think we can all agree that most of us will also need more customers. Businsesses, new and old, often struggle to continue growing their customer base, even those businesses that do a fantastic job.
You've probably heard of pay-per-click advertising or PPC. If you haven't, it can be an incredible source of new leads. Pay-per-click advertising can be highly targeted and cost effective for ANY business when done correctly. You may be wondering how to get more leads with PPC in Michigan, especially. This article will get you on the right track!
This guide will tell you how to use pay-per-click (PPC) advertising with Google Ads (formerly known as Google AdWords) to get more customers and grow your business.
Can PPC Work For Your Business?
A common misconception is that PPC is only for e-commerce websites or business with huge marketing budgets. That's not the case at all anymore. PPC is a highly effective channel for any size business, including things like local services, consulting, sales, blogs and more!
I fully understand the importance of a budget, especially for small businesses. While you can overspend on ANY advertising avenue, PPC can certainly cost you money in the hands of an unqualified advertiser. With that said, it can also be one of the most cost-effective advertising avenues out there due to the high level of targeting possible.
PPC is a great way to get new leads into your "funnel." Every good marketing plan should have a funnel where leads go from gaining information, to searching for providers, to selecting a company and moving forward.
The ultimate goal is to acquire the leads contact information so you can reach out to them in one way or another and close the sale. PPC makes this all possible in a way where you can measure every step of the process with incredible accuray.
Why PPC Is Great for Lead Generation
You can use different techniques to get more leads with PPC
If you consider your typical lead funnel, it isn't rocket science to understand that you need to keep filling the funnel to keep getting new customers.
At first, leads go into the top of the funnel in a "learning" stage, then work their way down to an eventual conversion when they've selected a service provider. The challenge is finding the initial leads to feed the top of the funnel. There are many different ways this can be accomplished and why PPC is an excellent source of leads:
Blogging: This can be a good source of leads, but you need if you prepared to publish a TON of content. It can also take time as your content needs to get shared by readers, shared on social media, etc.
Email: You can email your existing subscribers with upsells and cross sells, or you can build or buy a list of email addresses and "cold email" them with targeted emails campaigns.
Social media: This can get you new followers and fans and expose you to new prospects. However, it doesn't mean those followers are in your target market or need your product or service. You also need to have something interesting or helpful to offer these potential leads to encourage them to engage with you.
Organic search: Organic ranking is probably the most important. Approximately 85 percent of search clicks come from page one organic listings (specifically the top 3 spots), and the clicks are free! The only problem is you're competing with thousands of other businesses for those positions. Depending on your niche and keywords, you could be doing high level on and off-page SEO and it could still take months or years to rank in the top three.
PPC: You can instantly appear on page one and be in front of people who are searching for your solution to their exact problem. It requires some finagling but eventually, you find the right combination of ads and keywords to generate a non-stop flow of ideal customers.
PPC is a channel you pay for by the click. Do keep in mind, though, that no marketing channel is free. Someone has to manage social media, write the blogs, work with the SEO agency (not free), and publish the emails. The biggest difference is that no other channel can be tracked like PPC. Mailers, TV and radio can all be successful, but if they don't mention the ad, you may not know where it came from or if it's working.
Benefits of PPC for Lead Generation:
Attract visitors who are looking for what you offer
Achieve immediate keyword rankings and traffic
Bid on various stages of the funnel
Control the message for each funnel stage
See what people are searching for and craft your message to their needs
Know more about your leads and their behavior
Track ROI down to the penny
Grow your database of leads and market to them with other methods
Here are some real-world examples from Wordstream of how the ad copy, CTA, and landing page experiences compare. For lead generation, the keyword is "car insurance."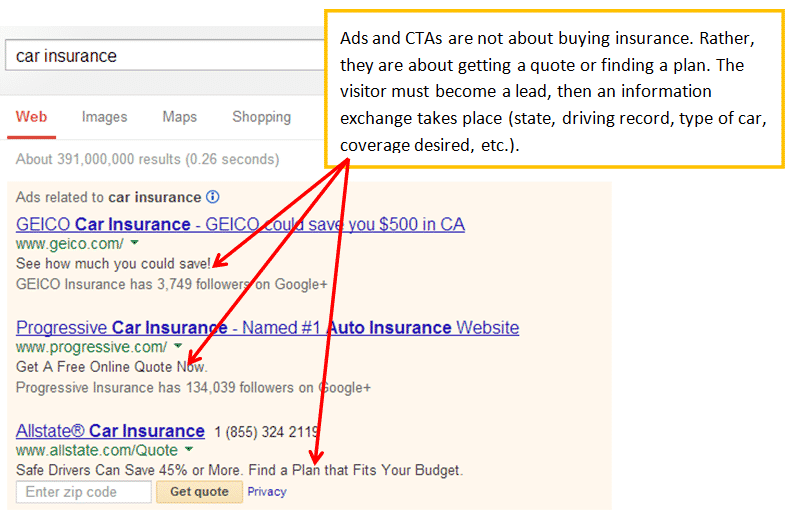 Now look at the e-commerce copy and CTAs used for "asics running shoes":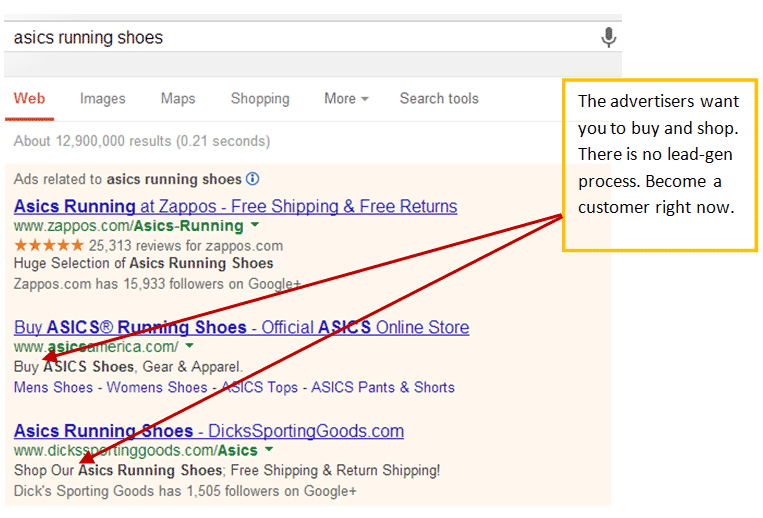 While the ad copy structure is often similar, the other big advantage of PPC is the ability to build your landing pages. Think about a mailer or TV ad. You're basically locked in to that design for the duration of your ad. It's also a lot harder to split test since you'd have to wait or run two campaigns side by side.
PPC allows you to build your landing pages and split test multiple variables like headlines, ad copy, pictures, lead capture forms, and much more. You can do all of this simultaneously and make changes at any time. It's much more flexible.
How to Optimize Your Campaigns to Get More Leads With PPC
Optimizing campaigns with Google Ads requires many different tests and tasks you can perform daily, weekly and monthly. Things like commonly-themed ad groups, testing ad copy and offers, and a variety of keywords. The major differences are the types of calls-to-action, the landing pages, locations (for local businesses), and audiences.
The goal is to constantly fill the funnel with fresh leads while also keeping your spending low enough to generate a profit. It's a fine line but once you figure it out, you're left with a marketig funnel that generates non-stop lead flow while always making money.
How Do You Improve Your Campaigns' Performance?
Every ad should have a clear goal for you and your lead. You're trying to gather their contact information and they're trying to find information or services. Make it as easy as possible. People love free stuff. Always give away something to your lead when they land on your page – things like ebooks and reports great. Even something as simple as a free quote can work.
Use focused landing pages. Your ad and landing page should mirror each other exactly. Make it as easy possible for the lead to give up their information.
Here's a good example for a Facebook ads course: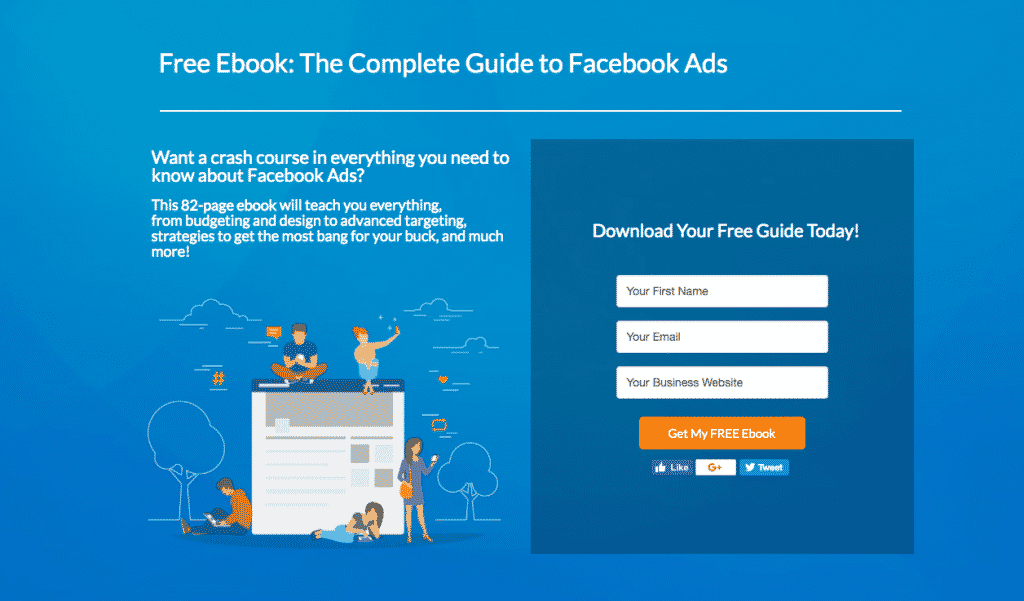 Things to notice:
Simple form – you don't want to overhwhelm people with a million things to fill out.
Not a lot of text – most people don't read things. They skim for main points. Keep it short and sweet.
No Testimonials – always try to include testimonials to instill a sense of confidence. People also like to do what other people do.
Clear headline – Again, simple and concise. People shouldn't wonder for even one second about what the page is about and what they're supposed to do.
Need More Info About Landing Pages?
Check out this article from Hubspot about creating a high converting landing page.