Understanding the best marketing strategies for dentists is critical for any local dentist's success. Research shows that the average solo dental practice needs more than 20 new patients per month to grow and thrive.
Many dental practices struggle to hit this number. The reason is usually the same – dental marketing strategies aren't the same as they were years ago. In 2022, nearly ALL consumers go online to find local services. Over 70 percent use online search engines to research dental treatments and search for reviews for a new dentist.
This is the age of online search. Being visible online is critical when it comes to building a profitable business.
The Top 10 Marketing Strategies for Dentists Proven to Grow Your Business
With so many traditional dental marketing strategies no longer being effective, you may be wondering what the new best dental marketing ideas are. Luckily, you've come to the right place.
Discover the most successful dental marketing ideas below that will help you bring in more new patients. After reading this, you should have a better understanding of how an online patient behaves when researching for a new dentist and tactics you can use immediately.
Need more help executing your dental marketing strategy? Let's discuss. Contact me here»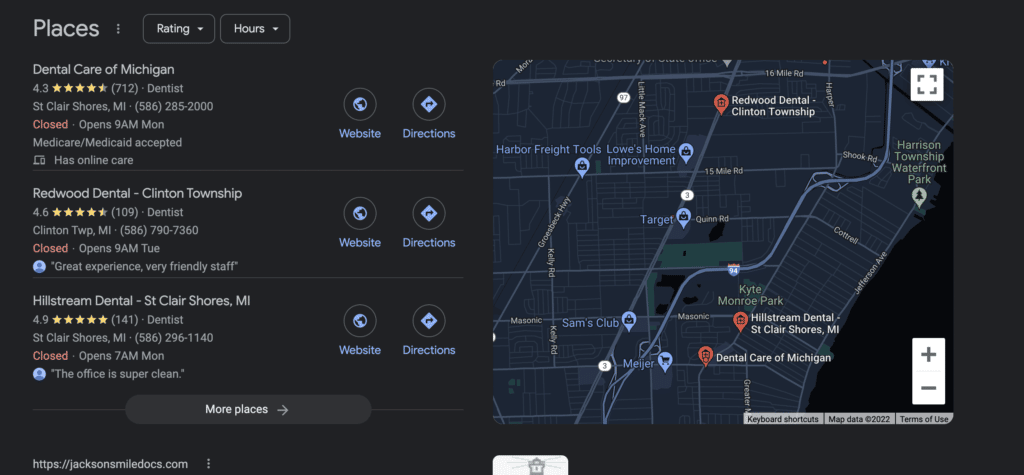 1. Optimize Your Google My Business Page
Optimizing your Google My Business page is one of the most important dental marketing tools you have. It's how new patients in your area find your practice when they're searching for a dentist on Google.
When potential patients search for "dentist near me," your GMB listing appears as a featured snippet at the top of the search results. This is known as the Local Pack. That's powerful real estate that you want your dental practice to occupy.
The Local Pack accounts for nearly one-third of all clicks on the first page of Google. So, if you're not appearing in the Local Pack, you're missing out on a huge opportunity to attract new patients.
To make the most of your GMB listing, be sure to:
Include NAP (Name, Address, Phone Number) information
Select categories and service areas (even if your address isn't public)
Add photos and videos
Use keywords in your business description
Respond to reviews if applicable
Create posts and offers
Add services with descriptions and keywords
2. Have a Legitimate Website
Did you know that nearly 4 in 5 consumers won't consider a business if it doesn't have a website?
Your website is your digital front door and the foundation of your dental marketing strategy. It's where new patients go to learn more about your practice and decide if they want to become a patient.
Your website needs to give visitors a great experience or you risk losing them to a competitor. That means having a modern, mobile-friendly design that loads quickly and is easy to navigate.
Websites are much more affordable these days, even for a small local business. I can create a dentist website for as little as $1,000!
There are also a ton of features available that won't cost you an arm and a leg. Need some ideas to make your website stand out? These are some key features you can consider to attract the modern day patient:
Online scheduling
Online bill pay
Online prescription renewal
Messaging capabilities so patients can communicate quickly with dental providers
Profiles for each dentist
Videos and pictures of actual staff and buildings
Helpful content
While not all of these are 100% necessary, there are some elements a modern website MUST have in order to be successful online:
It must be fast: Studies show that 40% of visitors will leave a website that takes longer than 3 seconds to load.
It must be mobile-friendly: Over 60% of all web traffic is now coming from mobile devices. You simply have to provide a great website that works on mobile devices.
It must be secure: You need to keep your patients' data safe, for their good and your business's.
It must be SEO-friendly: The best dental websites are created with SEO in mind. There is a ton of opportunity via organic traffic online. With the right SEO campaign in place, you could generate a steady stream of new patients every month.
3. Start a Blog to Help Potential Dental Patients
A blog can be a powerful tool to attract new patients and grow your business. By creating helpful content, you can position your dental practice as a trusted source of information in your community.
When potential patients are searching for answers to their dental questions, you want your blog posts to show up in the search results. That's only possible if you're creating SEO-friendly content that's optimized for the keywords your target audience is searching for.
Not sure what to write about? Consider these ideas:
Dental procedures you offer and their pros and cons
Common dental problems and treatments
Oral health tips
Q&As with the dentist
New technology or equipment at your office
New trends in the dental world like charcoal toothbrushes)
Make sure your website has content that will appeal to potential patients. If you're struggling to come up with ideas for dental blog posts, consider the following topics:
Correct a misconception: There are a lot of myths out there about dental health. You can use your blog to clear up any confusion and show that you're an expert in your field.
Discuss a trend: Is there a new trend in dental care that you're excited about or wary of? Use your blog to talk about why this trend is important and how it can benefit your readers.
Help to create healthy habits: We all know that we should brush and floss regularly, but sometimes we need a little reminder. Use your blog to share tips on how to create healthy habits that will last a lifetime.
4. Optimize Your Posts and Pages for Search with Important SEO Techniques
You can have the best content in the world, but if no one can find it, it's not doing you any good. That's why local SEO is so important for dental practices. By optimizing your website and blog posts for search, you can make sure that your content is being seen by the people who need to see it. In turn, this new traffic should result in more new patients. As your traffic and authority grow, so too should the number of patients you're seeing each month.
Here are some SEO basics that every site should have:
Load times under 3s
Fully optimized for mobile phones and tablets
Secured with HTTPS (it's usually free now!)
All images should have titles and alt tags
Schema markup like FAQs, local business and service
Content that is well-written, concise and error free
Internal and external linking
Backlinks, especially from websites in your local area
One of the best ways to attract new dental patients is to create shareable content that they can't help but share with their friends and followers. This content could be in the form of an infographic, video or even a blog post that's so good, it goes viral.
The key to creating this type of content is to make sure that it's interesting, informative and visually appealing. If you can do those three things, you're well on your way to creating something that will be shared over and over again.
Want some inspiration? Check out these great dental social media pages:
ProGrin Dental

6. Create Dental Videos for a Video Marketing Campaign
Videos are a great way to connect with potential patients and show them what your dental practice is all about. Whether you create videos that show off your staff, answer frequently asked questions or give oral hygiene tips, there's a video for every type of dental patient.
Not sure where to start? Check out these ideas:
Welcome videos: Give potential patients a tour of your office. Highlight your professionalism and a welcoming environment.
Physician profile videos:  Get to know your staff. These videos should highlight each doctor's qualifications, experience, and personality.
Patient reviews:  Share positive experiences from your current patients. This is a great way to build trust with potential patients.
Procedure and treatment explanations:   Have a new procedure or treatment you're excited about? Create a video to show it off! These videos should be informational and give viewers a clear understanding of what the procedure entails.
Answer FAQs: Use video to answer common questions patients have about dental procedures, treatments, and overall oral health.
Seasonal Tips and Videos:   Share tips for taking care of teeth during the summer or winter. You can also create videos that highlight special offers or promotions you're running.
7. Get Listed in Relevant Dental Directories
When someone is looking for a new dental practice, the first place they're going to look is online. And when they do an online search, the first thing they're going to see is a list of dental practices in their area. That's why it's so important to make sure your practice is listed in all the relevant dental directories. Additionally, being listed is relevant (especially local) directories is an important SEO ranking factor.
Here are a few important directories to get you started:
8. Try Pay Per Click Ads for Important Keywords
While SEO is important, it can take some time to see results. If you're looking for a quicker way to attract new dental patients, pay per click (PPC) advertising might be the answer.
PPC ads are a type of online advertising where you pay a fee every time someone clicks on your ad. The great thing about PPC ads is that you can target specific keywords and demographics, so you're only paying for clicks from potential patients who are actually interested in your dental services.
Not sure where to start? Google AdWords is a popular option for PPC advertising. PPC ads can be very effective, but they can also cost a lot of money and show very few results if not properly targeted. I'd probably recommend paying a professional if you've never done this.
9. Ask Dental Patients for Reviews. Then Ask for More.
88% of consumers say they trust online reviews as much as personal recommendations. When it comes to choosing a new healthcare provider, that number jumps even higher.
That's why it's so important to make sure your dental practice has plenty of positive reviews online. Not only will potential patients be more likely to choose your practice, but you'll also see a boost in your SEO rankings.
Here are some of the most important places you need reviews:
Google
Facebook
Yelp
Relevant dentist directories mentioned earlier in this article
Getting reviews can be a challenge. It's important to put a strategy in place to ensure you're asking every single patient for a review. You can do this by:
Asking patients to leave a review when they're checking out
Sending patients an email or text message after their appointment requesting a review
Including a link to your Google Business page on your website and in your email signature
Display signs in your office asking patients to leave a review
10. Stay in Touch with Your Patients through Email and Text
Once you've attracted new dental patients to your practice, it's important to keep them coming back. The best way to do this is by staying in touch and building relationships with your patients.
Email and text are great ways to stay top of mind with your patients and remind them of their next appointment. You can also use these channels to share special offers, educational articles, and other content that will keep your patients engaged.
Sending out a quarterly newsletter is also a great way to stay in touch with your patients and build relationships. Include things like staff updates, news about the practice, educational articles, and special offers. You can even include before and after photos to show off your work!
Building relationships with your patients is one of the most important things you can do to keep them coming back. By staying in touch and providing valuable content, you'll be sure to see your patients again and again.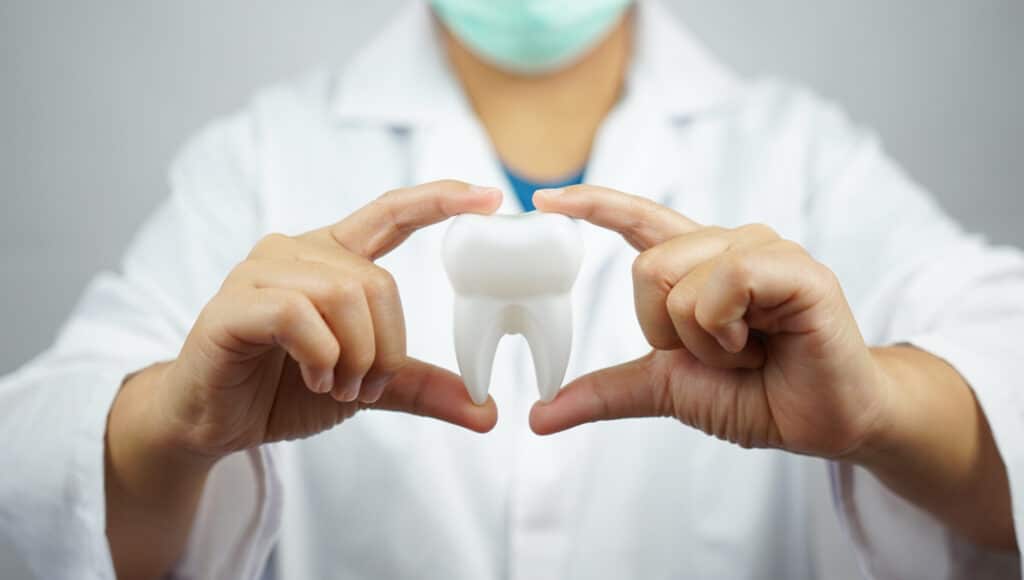 Executing a Dental Marketing Strategy Isn't Easy, But You Can Do It with These Tips!
Marketing your dental practice doesn't have to be complicated or expensive. By following these 10 tips, you can attract new patients and keep them coming back for years to come.
Still feeling overwhelmed? There's no shame in admitting that you don't have the time or knowledge to complete a successful marketing campaign. That's where I come in. If you're looking to drive more new patients to your doors, my SEO services for dentists are a great way to generate fresh leads from your website. Contact me today to discuss how I can help!